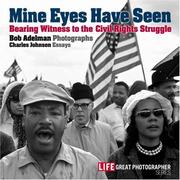 E185.61
.A235
2007
Mine eyes have seen : bearing witness to the struggle for Civil Rights
New York : Time Home Entertainment, c2007.
196 p. : ill. (some col.) ; 26 cm.
A visual tribute to the civil rights movement and the battle for racial equality captures the leaders and events of the era, with portraits of Sidney Poitier, James Baldwin, Martin Luther King, Jr., and many other activists who took part in the struggle.
Available
Regular
1 copy available at St. John's Riverside Hospital Medical Library
| Field | Ind | Subfield | Data |
| --- | --- | --- | --- |
| 001 Control No | | | 2667 |
| 005 LastTransaction | | | 20171224030624.0 |
| 008 Data Elements | | | 070905s2007 nyua 001 0 eng |
| 010 LCCN | | $a Record content licensor | 2007904502 |
| 019 | | $a | 154694518 |
| 020 ISBN | | $a ISBN | 978-1-60320-000-4 : |
| | | $c Terms of availability | (hbk.) |
| 020 ISBN | | $a ISBN | 978-1-60320-000-4 : |
| | | $c Terms of availability | (hbk.) |
| 035 System Ctrl No | | $a System control number | (OCoLC)171559331 |
| | | $z Canceled/invalid control no. | (OCoLC)154694518 |
| 035 System Ctrl No | | $a System control number | (OCoLC)171559331 |
| 040 Cataloging Src | | $a Original cataloging agency | UKM |
| | | $c Transcribing agency | UKM |
| | | $d Modifying agency | BAKER |
| | | $d Modifying agency | BTCTA |
| | | $d Modifying agency | BWX |
| | | $d Modifying agency | ZS3 |
| | | $d Modifying agency | OCLCQ |
| | | $d Modifying agency | WIQ |
| | | $d Modifying agency | NPL |
| | | $d Modifying agency | IXA |
| | | $d Modifying agency | VP@ |
| | | $d Modifying agency | OUB |
| 043 GAC | | $a Geographic area code | n-us--- |
| 050 LC Call No | 14 | $a Classification number | E185.61 |
| | | $b Item number | .A235 2007 |
| 100 ME:PersonalName | 1 | $a Personal name | Adelman, Bob. |
| 245 Title | 10 | $a Title | Mine eyes have seen : |
| | | $b Remainder of title | bearing witness to the struggle for Civil Rights / |
| | | $c Statement of responsibility | Bob Adelman, photographs ; Charles Johnson, essays. |
| 260 PublicationInfo | | $a Place of publication, dist. | New York : |
| | | $b Name of publisher, dist, etc | Time Home Entertainment, |
| | | $c Date of publication, dist, etc | c2007. |
| 300 Physical Desc | | $a Extent | 196 p. : |
| | | $b Other physical details | ill. (some col.) ; |
| | | $c Dimensions | 26 cm. |
| 440 Series Title | 0 | $a Title | Life great photographer series |
| 500 General Note | | $a General note | "Life great photographer book." |
| 500 General Note | | $a General note | Series statement from jacket |
| 500 General Note | | $a General note | Originally published: London: Thames & Hudson |
| 500 General Note | | $a General note | Includes index. |
| 520 Summary | | $a Summary, etc. note | A visual tribute to the civil rights movement and the battle for racial equality captures the leaders and events of the era, with portraits of Sidney Poitier, James Baldwin, Martin Luther King, Jr., and many other activists who took part in the struggle. |
| 650 Subj:Topic | 0 | $a Topical term | African Americans |
| | | $x General subdivision | Civil rights |
| | | $v Form subdivision | Pictorial works |
| 650 Subj:Topic | 0 | $a Topical term | Civil rights movements |
| | | $z Geographic subdivision | United States |
| | | $x General subdivision | History |
| | | $y Chronological subdivision | 20th century |
| | | $v Form subdivision | Pictorial works. |
| 650 Subj:Topic | | $a Topical term | Martin Luther King. |
| 651 Subj:Geog | 0 | $a Geographic name | United States |
| | | $x General subdivision | Race relations |
| | | $x General subdivision | History |
| | | $y Chronological subdivision | 20th century |
| | | $v Form subdivision | Pictorial works. |
| 700 AE:PersName | 1 | $a Personal name | Johnson, Charles, |
| | | $d Dates of flourishing | 1937- |
| 852 Holdings | | $a Location | SJRHM |
| | | $h Classification part | E185.61 .A235 2007 |
| | | $p Barcode | 15703 |
| | | $9 Cost | $0.00 |
| 856 ElectronicLocat | 4 | $3 Materials specified | Cover image |
| | | $u Uniform Resource Identifier | https://covers.openlibrary.org/b/id/2980932-M.jpg |